Obituary for Norma Thorpe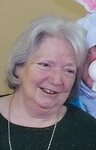 Norma passed away peacefully in hospital after illness, surrounded by loving family, on Wednesday June 6th at the age of 78.
The beloved wife of Jim H Thorpe, with whom she shared 58 wonderful years of marriage.
Norma is survived by her children James (Ruth) and Michelle (Chris), and
by granddaughters Mackayla, Kursten, Alice and Lucy.
Predeceased by her parents Ronnie and Isa McCall,
Norma will be dearly missed by her siblings Avril, Ronnie and Isa as well as extended family and friends.

Cremation has taken place.
A Celebration of Life will be held at the ARMSTRONG FUNERAL HOME 124 King Street East, Oshawa on Saturday June 23rd from 1:00 pm to 4:00 pm.

In lieu of flowers please send contributions to the Heart and Stoke Foundation.

Norma was loved and cherished by all who knew her.